This week's Momma Fancies focuses on a great children's book we had the pleasure of enjoying this month. A while back you might remember a review I did for The Night Night Book by Marianne Richmond, a book that fit perfectly into our nightly routine, seeing as it was all about going to bed itself.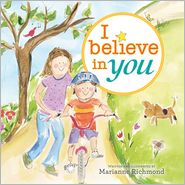 This time, Marianne Richmond does it again with I Believe in You. This is a sweet book, dedicated to her own four children, about the hard work that goes into growing up. As a parent, when you read this book, it really puts into perspective how truly hard it can be to be a little kid growing up today. There are so many trials and tribulations they may face and this book discusses each piece of character you'd want to instill in your child, from learning to having courage to telling the truth. With each turn of the page, you are reminding your child how much you believe in him or her in every step they take in their life.
As a school teacher, I see this being a great book for elementary aged children. It teaches a great message and is certainly a book I would even read to my students when talking about those character building attributes.
I thought it would be nice, seeing as my kids aren't quite yet school aged, to offer this book as a giveaway to one lucky reader! All you have to do is be a follower of the blog in order to win (and hopefully have school-aged kids, seeing as that is why I'm giving this up rather than keeping it for now!)
Additional Entries:
Follow me on twitter: @twinkietotmom
Tweet this: Enter to win a copy of I Believe in You by Marianne Richmond via @Twinkietotmom #giveaway
Follow my facebook page
Details:
Open to US & Canadian residents.
One lucky will be chosen at random, so please leave a separate comment for each valid entry from above.
Winner must contact me within 48 hours or a new winner will be chosen.
Giveaway will be open until Friday, November 4, 2011 @ 9 pm with a winner chosen & announced shortly after.