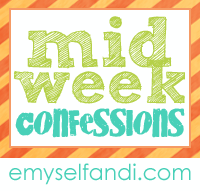 Spring break is next week. Isn't it crazy? It's almost like I keep forgetting about it because this school year is just flying by. My plans for spring break? Mike's been super busy with work, my parents are going out of town for the week which means we'll be dog sitting, so obviously it's the perfect time to start potty training the girls. Oh boy. What a fun spring break I'm in for.
We might actually book another staycation at a resort nearby. Just for a night probably, but you know my kids, they love a good hotel stay.
I love looking back every so often at pictures of my kids from one year ago, two years ago…and so on. It always think things like, "Look how little they were!" but never, "Look how big they were a year ago even. They will always look like babies compared to what they look like in the present. Case in point:
one year ago…
two years ago…
three years ago…
Typing the word "ago" looks funny if you put a capital a. Look: Ago. Weird, right?
Have anything to confess this week? Mine are pretty lame, so maybe you can spice things up a bit 😉