My confessions seem to be a day late almost every week lately. Maybe I should turn mine into end of the week confessions instead.
As much as I am a list maker, there are still things I forget because sometimes I forget to look at said lists. Like today, I paid our utility bill two days late because I simply hadn't looked at my "bills to pay" list for this month. Oops.
I should set up our utlities on auto-pay, like most all of our other bills are, but since that bill is one that can fluctuate from month to month I am scared to. Especially living here in Florida, the summer months usually bring quite high bills when it comes to all the AC we use!
Sometimes I wonder what my blog would have been like had I started it back when I was in high school. I've always loved writing and would have LOVED to have had a blog back then. Just imagine all the teenage drama that would consume these confessions each week?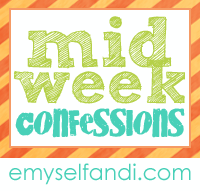 This weekend was suppose to be Phase 3 of the kitchen renovation (I know, I still need to post about Phases 1 & 2…it's on another one of those lists I make and never remember to look at) but I think I'm a little DIY burnt out after all I did during spring break. This weekend is going to be dedicated to fun & family instead.
April 1st is Sunday. That means tomorrow I will play some tricks on my students. I've never done this with past students, but I teach 4th grade now & they will totally love a little trickery.
 These confessions seem pretty boring. Sorry ya'll.