Because the blog hasn't been much substance as of late, I decided to join with The Nester & all of the other 31 Dayers this month.
The gist? Pick a topic to write on for 31 days. One topic, 31 posts. Some people are teaching others through their 31 days (31 days of crock pot meals, 31 days of 2×4 projects, 31 days to better budget) others are being a little more free (31 days of joy, 31 days of motherhood, 31 days of life). Mine is more the latter.
There is so much b.t.b (before the blog). I didn't start this blog of mine until the girls were about six months old. That means no baby Tucker posts, no pregnancy posts, no life before kids posts.
When I read other blogs who are behind me when it comes to those moments in life, I get a little nostalgic. I wish I had them documented like these blogs will. So, now is the time. 31 days to get as much in as I can. I can't promise a timeline or much organization. It's going to be 31 days of the past remembered. What I can find, when I find it. Documented.
Day 1.
Pre kids. Circa 2006, sometime before July because I know this is a pre-marriage picture.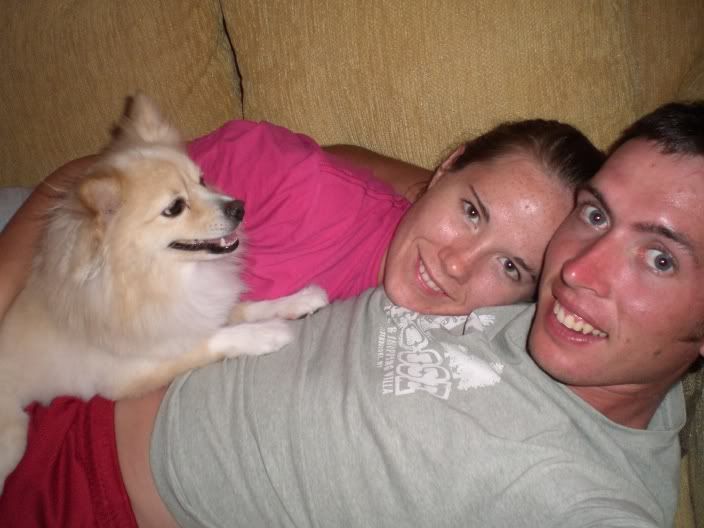 Look at those two kids.
Man, it feels like a million years ago. Life when our focus was on that little ball of fur (Molly, who now resides with my parents), on where to go to dinner, shopping trips an any hour just because (and getting in the car in 2.5 seconds & going with out any thought of diaper bags & car seats and who went potty), getting ready without interruption, and being just us.
Sometimes I almost can't even remember what it was like. Heck, most days I really can't.